Yamaha ActiveTune AFR closed-loop self-tuning ECU kit
$385.00
This Kit lets your FTECU-equipped bike tune itself as you ride!
Once installed and activated, the ActiveTune kit monitors the fuel mixture, making fast and consistent changes to meet different air/fuel requirements.
Our breakthrough system replaces your inadequate stock O2 sensor with a proprietary FTECU lambda controller and the latest generation Bosch LSU 4.9 sensor.
Link to video explaining use of Active Tune: Active Tune Video
PLEASE NOTE: This kit is intended for and only compatible with the stock Yamaha wiring harness; if you have an R1/R1M or R6 with a YEC Race kit harness, please click here to view the YEC variant of this kit.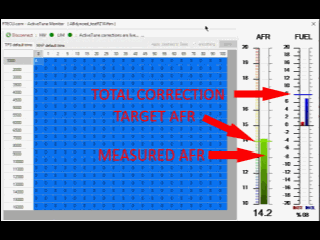 This kit requires:
– Data-Link ECU Flashing Kit ( bike harness required for tuning / data acquisition )
– Exhaust with a standard 18×1.5 O2 sensor bung (optionally cylinder specific bungs)
– Smog block-offs or disabled AIS valve
This kit includes:
– 1 FTECU YAM-01 Lambda Controller
– 1 Bosch LSU4.9 wideband O2 sensor (M18 x 1.5 thread)
– 1 Product Activation Card
Currently available models
– 2017+ R6
– 2015+ R1M / R1 / R1s
– 2016+ FZ-10
– 2016+ MT-10
– 2014+ FZ-09
– 2014+ MT-09
– 2014+ FJ-09
– 2016+ XSR900
– 2015+ FZ-07
– 2015+ MT-07
– 2018+ XSR700
– 2021+ Tenere 700
– 2021+ R7